BethAnn Shoudt, Psy. D.

Dr. BethAnn Shoudt works with individuals, families and couples. While Dr. Shoudt works with a wide range of individuals across the life span, she specializes in working with pre-school and elementary age children. Areas of interest include developmental and behavioral disorders, anxiety, depression, relationship difficulties, gender issues, and difficulty with adjusting to life struggles.
Dr. Shoudt's approach to therapy is relationship based, believing that psychological healing takes place in the context of the therapy relationship. All therapy relationships begin with an initial evaluation to identify the areas of struggle and then a treatment plan based on research and clinical practice is established.
In addition to clinical practice, Dr. Shoudt has done numerous presentations and lectures in the community. She has done in-service trainings for teachers on "Understanding the Emotional Language of Behavior in the Classroom." She has done emotional wellness seminars for physicians, teachers, and other professionals. She has also worked in classroom settings to help facilitate healthier classrooms and promote psychological well-being. Dr. Shoudt has been a clinical psychologist in Berks County for over 15 years. She obtained her Master's Degree at Immaculata University and Doctor of Psychology (Psy. D.) degree from the Illinois School of Professional Psychology.
Dr. Shoudt truly loves being a Psychologist and feels fortunate that clients include her in parts of their life journey. Dr. Shoudt is Catholic and has been married for over 25 years and has three children.
Melissa Reilly, Psy. D.

Dr. Reilly enjoys working with individuals and families ranging from school age children through advanced aging. During the evaluation process, she identifies the best mode of psychotherapy (individual, family, couples) and with the client, lays out a plan for treatment. Dr. Reilly takes a holistic approach which recognizes the multidimensional nature of a person's life including one's physical health and well being, family structure, education/vocation issues, social roles and demands, as well as one's developmental history, and how these factors impact a person's functioning.
Treatment is individually tailored to meet the distinctive goals and needs of each client and all treatment methods are grounded in psychological theory and research. Dr. Reilly's areas of particular interest include working with children and adults with depression, anxiety, grief and loss, parenting concerns, LBGT issues, and helping those with medical conditions such as cancer, and other chronic illnesses.
Dr. Reilly has been a clinical psychologist in Berks County for over 15 years. She obtained her Master's and Doctor of Psychology (Psy. D.) degrees from the Graduate Institute of Professional Psychology at the University of Hartford. She is a native of the Catskill Mountains of New York, but has called Pennsylvania her home since 1998. She is an active member of her Lutheran church. She enjoys spending time in amusement parks, zoos, and aquariums with her family. Dr. Reilly is an avid reader of fiction and loves to travel.
Katie Nerney, Psy. D.

Dr. Katie Nerney is a licensed clinical psychologist who enjoys working with children, adolescents, and adults. She obtained her Bachelor of Science degree from Denison University and her Doctorate of Psychology degree from the Institute for Graduate Clinical Psychology at Widener University with a focus in Cognitive Behavioral Therapy. She obtained pre-doctoral training at the Widener University Counseling Center and Child Guidance Resource Center and her post-doctoral training at a group private practice where she saw individuals across the lifespan. She is experienced in working with a multitude of issues, including ADHD, disruptive behavior, depression, and anxiety. Additional areas of interest and specialization include working with individuals with OCD, generalized anxiety, self-esteem issues, and parenting difficulties. Dr. Nerney is the mother of four children and enjoys watching them learn and grow every day. She also enjoys swimming, going to the beach, and reading.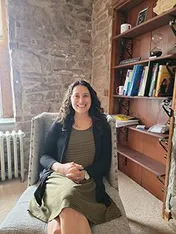 Julienne Balestrier, Psy.D.
Dr. Julienne Balestrier is a licensed clinical psychologist. She obtained her Bachelor of Arts degree from the Pennsylvania State University and her Master's Doctorate of Psychology (Psy.D.) degrees from William James College in Newton, MA. She completed her pre-doctoral internship at the Reading Hospital.
Dr. Balestrier works with adolescents, adults, families, and couples. She has experience working with a variety of mental health issues, including mood disorders, anxiety, psychosis, personality disorders, substance abuse, and relationship issues. She also has specific interest in working with clients around identity issues, including gender and sexuality. Dr. Balestrier typically employs a humanistic approach, with a variety of intervention techniques, depending on the nature of treatment and needs of the client. Dr. Balestrier uses a collaborative approach with an emphasis on client strengths and improving overall sense of self and wellbeing.
Dr. Balestrier is a native of Berks County. She is grateful to have the opportunity to provide therapy services in her hometown and to use her training and experience to help the residents of this community. In her personal life, Dr. Balestrier enjoys reading, cooking, baking, and spending time with her family.
Phillip Tietbohl, Ph.D.

Dr. Tietbohl likes helping children, adolescents, and adults grow, overcome obstacles, and flourish. In practice locally since 1994 and a licensed psychologist since 1995, Dr. Tietbohl has been sharing conversations of caring with families and individuals dealing with anxiety, depression, disruptive behaviors, ADHD, and/or phase of life adjustments. He enjoys assisting clients to solve problems, building on what's going well and improving the quality of their lives by sorting out what is getting in the way of greater health. He helps you revise your narrative to be more balanced, nurturing, and complete with a strength-based approach, as sometimes the story you tell yourself is limiting.
Dr. Tietbohl earned a Bachelor of Science degree in Mechanical Engineering from the Massachusetts Institute of Technology, a Master's degree in Education/School Psychology and a Doctorate degree in Clinical Psychology from the University of Virginia. He has been trained in dynamic understandings, family systems, cognitive behavioral and other techniques and he tailors what is needed to an individual client's symptoms, problems, or difficulties. He employs an integrative lens to understand clients for effective treatment.
Dr. Tietbohl also believes in the healing power of poetry as a therapeutic tool and employs this, when relevant. He has worked with groups from local libraries, schools, elder-care facilities, and the collaborative creation of a group poem has been a key part of most of those events. He has spoken about therapeutic uses of poetry to professional groups and his material was well-received. In 2019, he published a book on Amazon, "Sailing to Calencia and Other Poems of Kindness, Understanding, and Love," about an island on the equator where people are treated equally, with a portion of proceeds going to a charity.
Dr. Tietbohl celebrates all cultures and knows that diversity takes many forms, with some individuals experiencing greater adversity than others. He likes to learn and speak different languages, taking hikes with family and friends, finding wonder and awe in the nature that surrounds us. He is married with 4, adult-children.
MaryAnn Ferrese

MaryAnn is responsible for coordinating services from the initial contact and assists patients with billing and insurance concerns. MaryAnn manages all submissions to insurance companies and tracks copays and coinsurance. She respects all patients' confidentiality. Patients find MaryAnn friendly and helpful. If you have any questions or concerns regarding insurance or billing, please feel free to contact MaryAnn.
Jennifer Luigard
Jen is our administrative assistant and is primarily responsible for the intake paperwork and registering new patients. If there are any questions, Jen directs them to the proper person if needed. Confidentiality is a priority in her job. She has spent over a dozen years in early childhood education as an assistant director and teacher. Please contact Jen regarding new patient information or any other questions.